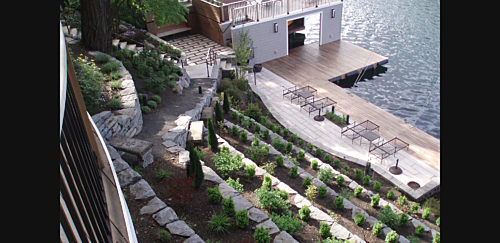 Cyphers Residence
This gorgeous property sits on the waterfront of Oswego Lake. The project included an outdoor living area, a gorgeous deck, a massive retaining wall, concrete step and an outdoor lounge. Custom imported limestone steps were the finishing touch.

Limited access presented a major challenge on this project, as the use of heavy equipment wasn't feasible. Excavation took place by hand and wheel barrels, and we even used small barge to float in the flat "A" split basalt for the retaining walls. Overall with the Basalt and the Lime stone for the steps and landing we imported about 160 tons of material!

Softscaping included Evergreens, Boxwoods and Cyprus. The retaining walls were built with natural basalt boulders, and the walkways were a combination of flagstone and architectural slabs. The complete project was featured in Hardscape Construction trade magazine.