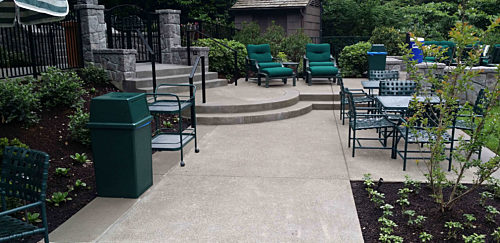 Portland Racquet Club
Sitting in a secluded location in the Southwest Hills, the Portland Racquet Ball Club boasts a large swath of private grounds. We installed a Ryegrass sod lawn, irrigation, plantings and low voltage lighting throughout the landscape.

This stunning project also included a custom natural stone fire place with matching rock formations, outdoor seating, steel fencing, and decorative iron work including gates and handrails, in conjunction with Kervin's Custom Ironworks. Natural basalt walls and columns, new concrete pool decking and acid etched concrete provided the gorgeous finishing touches.